Hey new and old followers, it is fun having so many followers!!
Thanks for following everybody!
(do you think I said the word follower enough yet?)

So I know I am late with this post today but the day just got away from me, better late then never right?

I decided that since I already weigh in on Wednesdays I might as well jump in with everyone else and link up with Erin and Alex.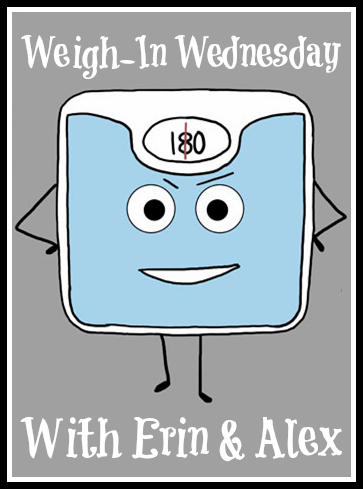 I am not going to lie, I really wanted to see a bigger loss this week.
I actually put in the effort, I mean a friend brought ice cream over on Sunday and left it in MY freezer and guess what?! It is still there!!
Yep, you read that right, I did not devour that carton the second my friend left.
This is a ginormous step for me, ice cream is my weakness.
And I didn't eat it!!!
Well, even with all my healthy food choices this week I am only down one pound.
I know that I should be happy that I lost at all and normally I am but man.
I just feel discouraged, like if I am only going to lose a pound whether I eat whatever I want or make healthy choices then why wouldn't I eat all the ice cream I can find!
So this week I am weighing in at 172.8 lbs.
Down exactly one pound from last week.
I am going to keep at it though, that ice cream is just going to sit in my freezer, it won't win.


I just noticed this was my 100th post, cool!!