I haven't posted in a while, I just haven't been feeling it, not sure why.
But I wanted to keep up with my weigh ins that was supposed to happen on Wednesday so that I have it somewhere.
I weighed in on Wednesday at 176.4 lbs.
Down from last week but still up from where I was, I am still fighting to lose the weight I gained back over the holidays.
The scale is moving down and that is all that really matters.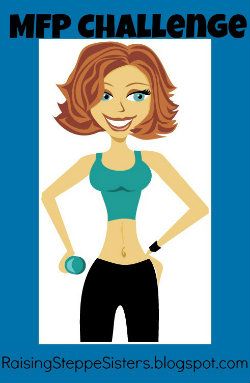 2 week MFP Challenge
I attempted
Lora's
MFP challenge but
FAILED
.
I kept meaning to but never started logging until yesterday so I have made it two days.
I usually get in a habit of doing it everyday then something happens and I miss one day then weeks go by before I get back at it.
An update with my 10k training, it is going good.
I can't remember if I posted that I was starting the training schedule over.
I had started before Christmas but then I struggled a lot with the cold weather and running, I HATE the treadmill.
I think that I have it figured out now, I run two times a week on the horrid treadmill and then my long runs are outside.
There are only three running days in this program, so if I get the chance I ditch the treadmill and hit the pavement.
It all depends on whether or not my husband is available to watch the kids so that I can run in daylight, I hate it that the sun doesn't rise till after 7am, I was in such a good routine of running at 6 before everyone was awake.
Today I swam some laps for the first time in a long time.
I need to fit more swimming in so that I am prepared for the Triathlon that I signed up for, it is on March 24.
I am petrified and super excited all at the same time.
I think this post was random enough, I hope to post more regularly starting next week.
Even if I have only 23 followers I love how I feel accountable to all 23 of you.
But I am also a little afraid to have any more followers, I don't know, I'm just weird. I put all my fat pictures and my weight on here so more followers means more people seeing.
AHHHH....SCARY!
Have a great weekend!!